The Dram Shop is Missoula's First Stand Alone Growler Fill Station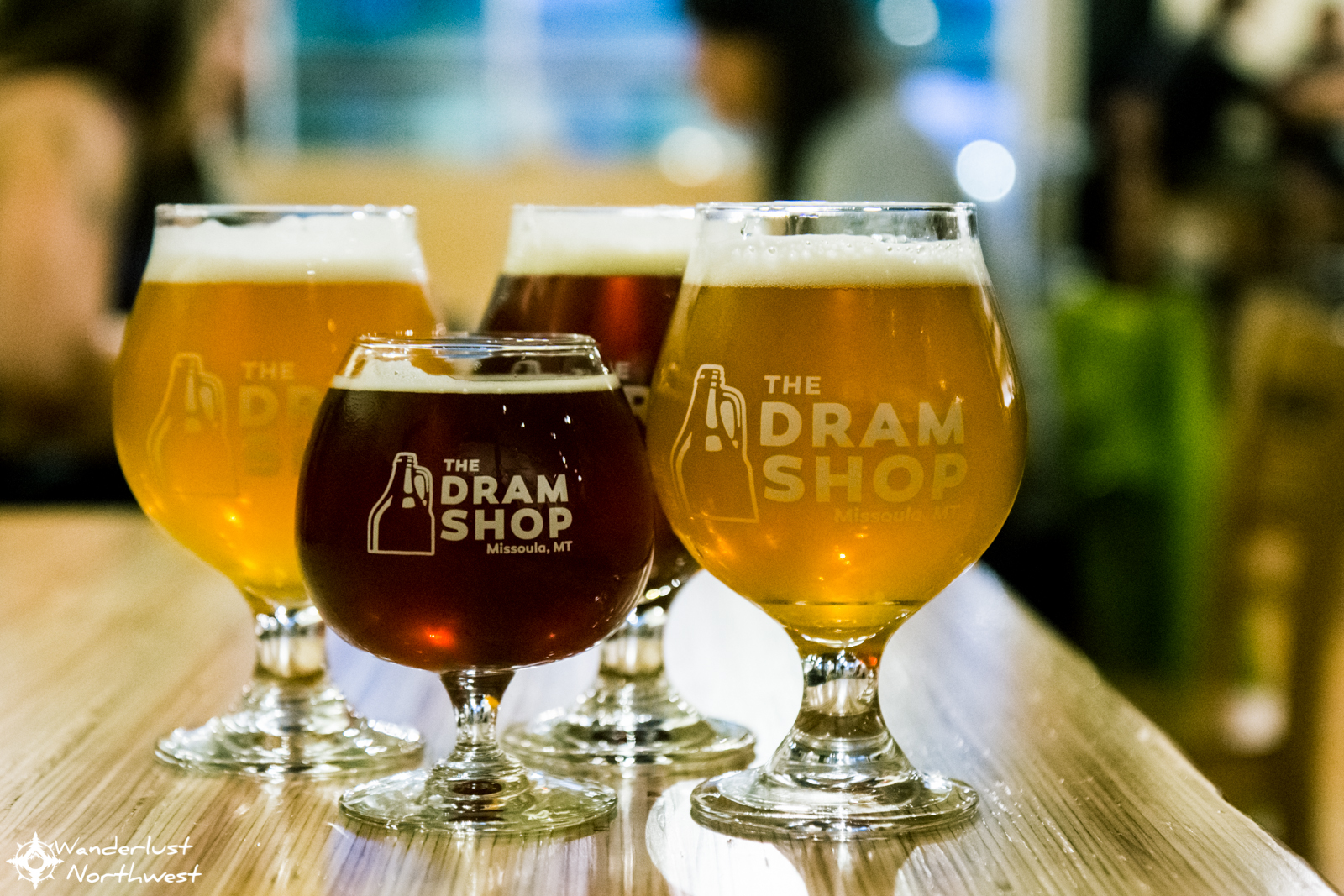 It seems somewhat difficult to truly standout among the masses when opening a new storefront these days– especially an alcoholic establishment in a town that is filled with breweries and bars. The Dram Shop has figured out the secret recipe though. They are Missoula's, and actually all of Montana's, first designated growler fill station.
Specializing in growler fills and not brewing your own beer really opens up a lot of opportunities. You are able to offer a respectable sized beer selection for fills and pours– from local to limited sour series.
Whatever floats your boat, can also fill your glass. As soon as I walked through the door– it just felt right & those bottles are for sale.
If you happen to forget your growler at home– no worries, they have you covered. They also have apparel for sale if you forget to wear a shirt.
This was a first for me, projector beer list. I give them props for that since I have drank in a decent amount of places. It gives you all the information that you need– name, location brewed, ABV and price for whatever size fits you.
If you want to study the menu, or have a fear of modern technology, there are paper menus that will help you get back into your comfort zone. In total, there are 37 taps of draught beer, wine, cider, soda and bottle selection.
The interior is very simple– but I highly enjoy the paint choice and the use of light cabinets.It reminds me of the place I had back in college.
Besides the long bar, there is seating all along the west wall and there is more room on the south side behind the bar as well.
The front seating area is prime, with a great view of Front Street and the feeling of slightly more secluded seating– although we didn't feel any intrusion sitting in the back.
There are no servers, at least when we were there, so beers were ordered at the bar– they were served up in a very timely manner.
While my brother was ordering up the first round, I did have a moment to look around The Dram Shop. The photography hanging on the walls is spot on and essentially sums up the vibe of Missoula perfectly.
I was tempted to wander into the corner and entertain myself– but I decided it was best to leave it designated for the children. So, I stuck with my adult beverage and not completely adult conversation.
Classy, that was my first thought when I was handed my glass.. delicious was the second thought. I ordered up a Teton Sour, which I highly recommend.
The Dram shop is only open until 9 or 10pm [depending on the night], which makes it the perfect place for after work drinks– or the first stop of the night. Beer flows plentiful and conversation is always of high quality. You can even order in food here– there is a select menu from The Pearl and Market on Front that can be delivered to you.Being that The Dram Shop is Montana's first growler filling station– all of the ones to follow have very large das boots to fill.
The Dram Shop
229 E Front St, Missoula, MT 59802(406) 540-4303Website
Next to The Trailhead!Hours:Tuesday-Thursday 12-9 pmFriday 12-10 pmSaturday 10-10 pmSunday 12-9 pm[google-map-v3 shortcodeid="TO_BE_GENERATED" width="600" height="240" zoom="15" maptype="roadmap" mapalign="center" directionhint="false" language="default" poweredby="false" maptypecontrol="true" pancontrol="true" zoomcontrol="true" scalecontrol="true" streetviewcontrol="true" scrollwheelcontrol="false" draggable="true" tiltfourtyfive="false" enablegeolocationmarker="false" enablemarkerclustering="false" addmarkermashup="false" addmarkermashupbubble="false" addmarkerlist="229 E Front St, Missoula, MT 59802{}bar.png{}The Dram Shop" bubbleautopan="true" distanceunits="miles" showbike="false" showtraffic="false" showpanoramio="false"]